Professional Teeth Cleaning Stoney Creek, Ontario
Yes, brushing your teeth and flossing regularly are sure ways to help prevent periodontal disease, but there are still many bacteria on your teeth that you can't remove yourself and must be removed by a professional. Here at Orchard Park Dental in Stoney Creek, we perform thorough exams and teeth cleaning services to maintain your oral health. Remember to book your appointment today as well as every six months to undergo teeth cleaning services in our comfortable office.
Why Do I Need Deep Teeth Cleaning?
Deep cleaning is a way to remove harmful bacteria from your teeth and periodontal pockets (below the gum line) to keep your dental health in good condition. By not having the bacteria removed, you are potentially at risk of being diagnosed with periodontal disease. Periodontal disease affects the tissue that holds your teeth in place and can cause your gums to recede and your teeth to fall out. If early signs of periodontal disease are detected by our dental team, we'll put the right preventive measures in place to reverse them.
Our Oral Cleaning Services
Every six months, we encourage our patients of all ages to visit our Stoney Creek dental care office so we can help them maintain their oral health through every stage of life. During your general cleaning appointment, our dental team will start by examining your mouth and surrounding areas to ensure there are no signs of complications and, from there, continue the teeth cleaning process:
Scaling
This is accomplished with a hooked tool called a scaler. We know you don't necessarily enjoy the feeling or sound of the scraping, but it's what helps us to remove the buildup of plaque and tartar on each tooth and from around your gums that you can't otherwise remove yourself.
Polishing & Flossing
Next, it's time to polish your teeth with a flavoured, gritty paste. The grittiness is what helps in the teeth whitening process and removes stains. After it's applied and rinsed off, your teeth will be flossed to remove any leftover debris.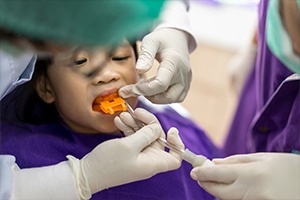 Fluoride
The final step! You'll get to choose which fluoride flavour you prefer and apply it to a mouthpiece that will sit on your teeth for about a minute's time. This also helps the teeth whitening process and fights against cavities. Fluoride is a mineral that's naturally found in your tooth enamel and can help remineralize it.
We're Committed To Your Smile
We're a full-service dental care practice in Stoney Creek who offers treatments patients of all ages. Our entire dental care team – from our receptionists to our dentist – are committed to ensuring you have a good experience with us during every visit. Your comfort, trust, and lifelong friendship mean a lot to us which is why we work diligently, day in and day out, so our patients can achieve and maintain a smile they can be proud of. This is also why we'll remind you that your six-month checkup appointment is nearing. Our hours are convenient and are even extended into the evening a few days of the week so even our busiest patients can find the time to have their teeth cleaned. Once a month, we offer Saturday appointments for those who can't make it throughout the week. Contact us to book your appointment!
Have Any Questions About Our Other Dental Services?
If you have any questions about our other dental services, don't hesitate to contact us over the phone or via email and we'll get back to you promptly. Our dental office here in Stoney Creek offers a wide range of cosmetic, restorative, and general dentistry services that help improve your dental health and we'd love to speak with you about which solutions would be best for you. We're a professional group of individuals who care about treating our patients the way we'd want to be treated, therefore, we'll go into great detail about our dental services so you can make a well-informed decision alongside your dentist. Educating our patients is key to developing a trusting long-term relationship and achieving your oral goals.