Tooth loss happens. Sometimes, people develop periodontitis (gum disease), which can cause the gum tissue to pull away from the teeth and allow harmful bacteria to deteriorate the bone structure of one or multiple teeth. Other times, they experience a fall or injury that can cause teeth to crack and die. No matter the cause, whether tooth decay or a mishap, a few missing teeth can impact your self-esteem and everyday life. Thankfully, several tooth replacement options are available to help you smile confidently.
Dentures and dental implants are natural-looking, permanent solutions to fill gaps in your smile. They can help restore your smile and improve your overall oral health. But what should you choose for your mouth; implants or dentures?
Implants vs. Dentures: What Are They?
When it comes to replacing missing teeth, dental implants and dentures are both viable options. To help you choose which treatment would be best for you, we briefly explain both options, their placement, and what they are typically used to treat.
Dental implants are a permanent solution to missing teeth. They are false teeth made of two parts: a titanium post and an implant that is manufactured to match the shape and colour of your healthy natural teeth.
Implants are typically used for a single missing tooth.
Dentures are removable prosthetic devices that replace missing teeth. Unlike implants, there are two types of dentures available: partial dentures and complete dentures, which are the conventional dentures that most people think of.
Full and Partial Dentures
Full dentures, also known as complete dentures, are when all the teeth on your upper or lower jaw are replaced. These dentures are not typically used for people who have either a single tooth or a few teeth that are dead or cracked. Instead, they are for people who need a complete set of new teeth.
Partial dentures replace multiple teeth. They are designed around the remaining natural teeth, giving you the benefits of both. These are an excellent option for individuals missing several teeth.
When comparing implants and dentures, both have pros and cons. We list some of these pros and cons below to help you determine which solution is right for you.
Dental Implants Feel Like Real Teeth
While dentures and implants are both designed to look and feel like real teeth, some patients say that dentures do not feel natural and tend to click.
An implant is a much more natural-looking and feeling solution because they are attached to the jaw bone. Often, individual implants are indistinguishable from the surrounding teeth.
Dentures Can Be Easily Cleaned
Dental implants and dentures need to be properly cared for, much like your regular teeth. Removable dentures are incredibly easy to clean compared to implants.
You can easily remove the dentures from your mouth and wash away the denture adhesive and any remaining food bacteria on your gums. Then you can brush and soak your dentures to keep them clean and looking great. Easy cleaning offers many health benefits, specifically a lower risk of periodontitis.
Implants need to be cleaned just like your remaining teeth, and proper care is essential because they are still at risk of developing gum disease.
Dental Implants Can Be Invasive
The one downside of dental implants is that they are quite invasive; placing one dental implant can require extensive oral surgery and regular checkups.
For example, the dentist needs to remove the regular tooth, place a titanium post below the gums, and eventually attach the artificial tooth. In some cases, you may need a bone graft if your jawbone has undergone bone loss.
A bone graft is a surgery that helps restore the jawbone structure, creating a solid base for implants and existing teeth. The dentist will use an artificial piece of bone, graft it to your jawbone, and let it heal. Once your jawbone has healed, and your bone health has been restored, we will place a titanium post to serve as the artificial root for the implant.
If you have several missing teeth, you might want to skip implants. Dentures would be a less invasive option compared to placing four implants.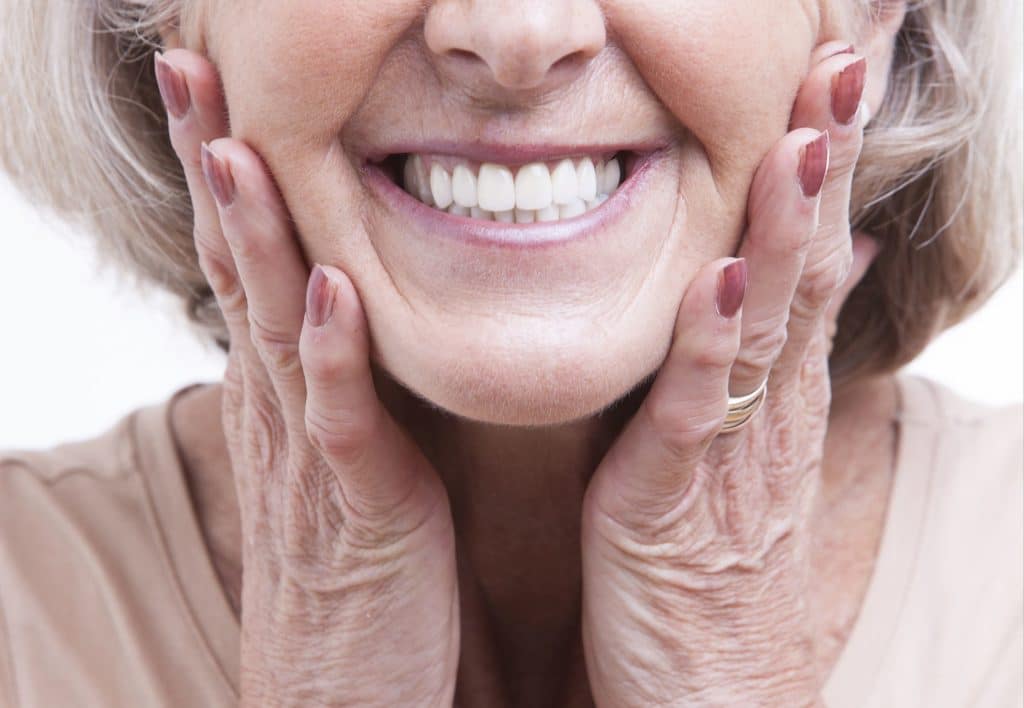 Let Us Restore Your Smile
Are you missing a tooth or several? Don't worry. A dentist at Orchard Park Dental can help. We offer both dentures and implants, so you can get the solution you want and need. Call us today to book an appointment with a dentist. We will come up with a treatment plan that works for you.